That old rugby cliché "up and under" takes on an entirely new meaning for a group of South London sportspeople.
One of them, Jerome Lewis from Brixton, is a member of the Pure Underwater Rugby England (PURE) club and recently took part the UK's first ever international underwater rugby tournament in Putney.
There were players from 12 countries. The UK fielded two teams who took on France and Germany – with the latter winning on the day.
Local underwater rugby players who took part include Jerome and Nando Lewis from Brixton, club captain Ben Aisbitt from Camberwell, Pierce Mendenhall from Putney, Kiat Han from Greenwich and Davide Spinelli from Crystal Palace.
And if the idea of underwater rugby interests you, the Putney-based team is keen for more people to get involved in the sport in London and across the UK.
And that means women as well as men. The PURE team at the tournament fielded guest players including Raines Williams and Katie Careless from Cheltenham and Laura Garlic from Worcestershire.
The tournament was followed by the first Team GB underwater rugby international against an invitational side including players from Finland, France, Germany, Hungary, Italy and Singapore, with the hosts winning 5-2.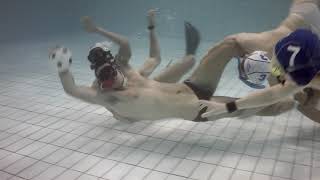 Masks, snorkels and fins
Underwater rugby originated in Germany in the 1960s and is now played worldwide. Matches involve two teams of six players, wearing masks, snorkels and fins.
The aim is to get a round ball – filled with salt water so it doesn't bob to the surface – into the opposition's basket.
PURE is part of the British Sub-Aqua Club (BSAC), the UK governing body for scuba diving and snorkelling.
Roy Sherwin, 68, a BSAC diving and snorkelling instructor, is the founding members of PURE and organised the tournament.
"The idea is to develop the sport nationwide," he says.
"If you like snorkelling and are looking for something to do during the winter months, then you should try it out.
"PURE can offer help and advice to anyone who wants to set up a team."

Mixed and open to all abilities
BSAC has nearly 30,000 members, 120 dive centres and more than 900 family friendly clubs run by volunteers. The Duke of Cambridge is club president.
PURE is based in Putney and currently has 18 members, many of whom joined after playing underwater rugby in other countries. They have travelled to tournaments all over the world.
Says Roy Sherwin: "It's important to stress that it's a mixed sport and is open to all abilities – there is a position for every person."
PURE is seeking sponsorship so that future events can be held in larger venues like the London Aquatics Centre which hosted the Olympics.
It wants to make underwater rugby a spectator sport in the UK.
"In Europe quite often a huge five-metre square AV screen will show the game," says Roy. "It means spectators can see someone dive in and follow them underwater – tackling, defending or goalkeeping."
Find out more about PURE by visiting its website. You can also find the club on Facebook: @PUREUnderwaterRugby and on Twitter @PUREuwr.
For more information about the British Sub-Aqua Club visit www.bsac.com, or Twitter: @BSACDivers and Facebook: facebook.com/BritishSub-Aqua clubs.